Mobile Casino vs Desktop Casino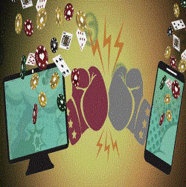 If you want to play on online casino websites, you essentially have two main choices. You can play on a desktop computer or laptop, or you can play using a mobile device.
Most desktop computers will either run Windows or macOS. If you use a mobile device, you'll probably be using something like Android or iOS.
What About Other Operating Systems?
When it comes to using other operating systems for your online casino gaming, you'll probably run into some problems. The vast majority of these casino games will only function if you're using a conventional OS. If you're using something like Linux, you'll run into severe issues when playing these games.
Why Play on a Desktop Casino?
A big reason to play on a desktop casino with a computer or a laptop is because you'll have a much wider variety of games available to you. In the past, desktop casino games were often produced using Flash.
Flash is not compatible with mobile operating systems, so people using mobile phones to play will miss out on these games. If you're a fan of playing older slots games, then you need to have a desktop computer to play them.
Desktop computers also have a bit more versatility; for example, if you want to play a game of poker using a HUD program, it's much easier to set it up on a desktop. On top of that, it's also easier to look up the stats of other players using a desktop computer.
If you want to play games like poker at the top level, it certainly makes sense to use a desktop computer rather than a mobile phone or tablet.
Why Play on a Mobile Casino?
Did you know that the majority of online casino players now prefer to use their mobile phone or tablet to play? In the past, the mobile platform wasn't widely used because of all the compatibility issues.
These days, this is no longer a problem. Most developers now make their games using HTML5 rather than Flash; this means the games will run on virtually any operating system.
The only time you'll run into compatibility problems is if you want to play on older games. These were often made with Flash, so it's basically impossible to get them to run on a phone.
Of course, the main advantage to playing on a mobile casino is the portability factor. There's no way you're going to take your desktop computer on the train, and it's not really that easy to bring your laptop on either.
On the other hand, bringing your mobile phone or tablet along for the ride isn't a problem. These days, you can have virtually the same experience as a desktop casino player using your favorite mobile device.
The only time it really makes sense to favor a desktop is if you want to play older games or if you're playing a game seriously. For more information, as well as great recommendations for Australian casino fans, visit our homepage.
---